This template comes with few Basic Options to help you further customize your Joomla website. You can choose from logo displaying, to what type of fonts you want on the website. To change the template basic options you simply need to follow the steps below.
Login into the Administration Control Panel of your Joomla website.
Navigate to Extensions > Templates. Click on the title of your Joomla template.
Below you'll see the templates basic options. There are several basic options to change here so we suggest you play around with them to see what best suits your Joomla website.
Basic Options Explained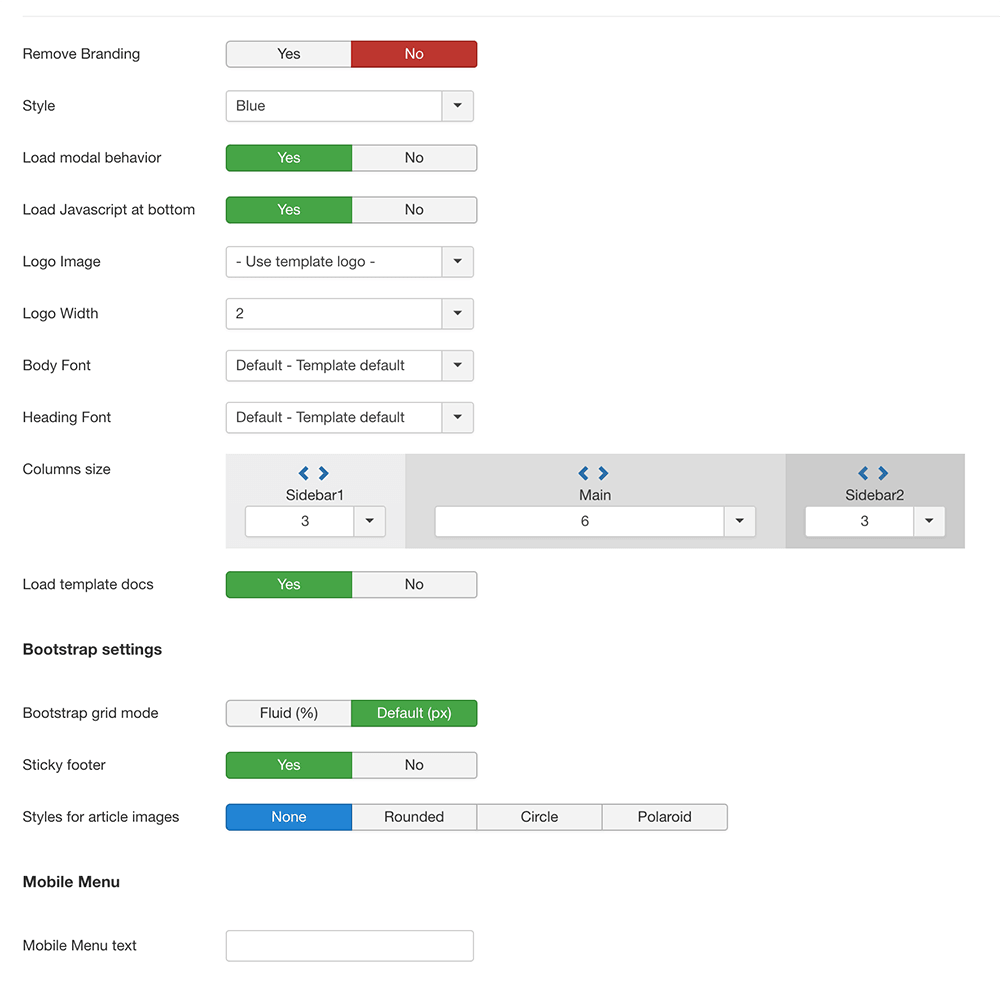 Remove Branding

This will remove the branding located near the footer of the page.

Style

Each different template can have several styles to select from (depends on each template).

Custom Style

new


You can create your own color style by choosing "Custom" style. The number of available color options depends on each template. Read more about custom styles here.

Load modal behavior

Use the modal class in any link tag to open up pop ups instead of new windows. Just add class="modal" to your <a> tags and you will open up pop ups.

Load javascript at bottom

Load Wright javascript before closing <body> tag.

Logo Image

Choose how you want to display your logo. You can choose to use the template logo file, a module position, or from a list of images.

Logo Width

Change the width of the logo depending on your image and the module position located next to the logo will change widths automatically.

Body Font

Choose from several different fonts for the overall site.

Heading Font

Choose from several fonts for the heading on your site.

Columns size

Choose how you want your columns displayed and the widths of those columns.

Load template docs

Loads docs.css and prettify.js to enhance documentation either for the template or your own project.

Bootstrap grid mode

The Template can work either in a 960px grid (px) or using a fluid grid (%).

Sticky Footer

Select whether you want to force the footer to be always at the bottom of the page.

Bootstrap styles for article images

You can select an style for the intro and full-article images (using the default Joomla Content component).

Mobile Menu Text

Replace default hamburger icon with a label.
Clementine Options Explained
Default background image in Header

Select default background image in Header. Only JPG and PNG supported. Important: be sure a module in featured position is enabled in your home page, in order to see the image.

Toolbar always showing

Select wether toolbar should be always showing (yes), or hidden (no)